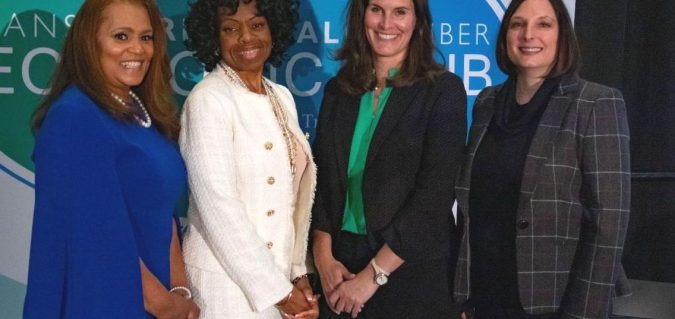 Our owner and President, Kelly Preston, has been leading Capital Steel through some of the most difficult times in the steel industry. Along with her unwavering commitment to serve our customers, her vision and leadership skills have positively benefited not only our customers, but our culture and team as well.
Three Advantages of Women in Leadership
Research shows that women leaders help their organizations and customers thrive because they have three key advantages. We've experienced all of these from Kelly, and if you're a Capital Steel customer, you have, too.
1. Better Problem Solving
Gender diversity in leadership (along with ethnic diversity, racial diversity, and other identity-based diversities) bring different perspectives and experiences to issues, allowing for new ways of considering and solving problems.
2. Improved Trust
The Women and Leadership Survey from Pew Research Center found that 34% of American workers believe women are more ethical and honest, making them more trustworthy. With improved trust comes improved productivity, team morale, and cooperation internally and externally.
3. Superior Soft Skills
Soft skills are those that pertain to how you interact with others and handle your professional life. Commonly referred to as emotional intelligence, soft skills include things like communication, collaboration, critical thinking, networking, and more. They are also key leadership capabilities. A study by Hay Group found that women outperform men in 11 out of 12 emotional intelligence competencies.
Supporting Women in Leadership
As a female leader, Kelly often discusses what's needed to support and raise women up to leadership roles. Most recently, this was a topic of discussion at a Lansing Economic Club panel that included Kelly and other female leaders from the area. Take a page out of their book and leverage these key takeaways yourself or within your own organization:
Advocate, Advocate, Advocate
Women have to advocate for themselves, and those above them need to listen and proactively support them when they do.
Develop Key Skills
The panel noted the skills that helped them achieve higher positions, which included: being curious, constantly learning, and working hard.
Provide & Seek Mentorship
Women who are in leadership positions should serve as mentors to younger employees, and younger employees should seek out female leaders within their organization as mentors.
We're proud to have Kelly as our President. We benefit from having her as our leader, and our customer's do, too. In recognition of the value Kelly has brought as a female business owner and leader, we sought and earned the National Women's Business Enterprise Certification from the Women's Business Enterprise National Council. You can read more about it on our homepage.