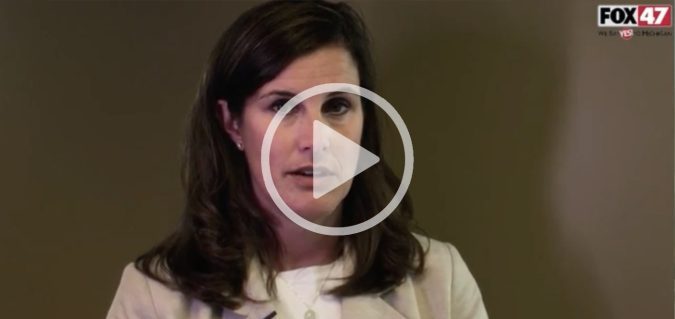 Capital Steel & Wire President, Kelly Preston, was recently interviewed by Fox 47 news.
By: Associated Press Posted at 2:56 PM, May 21, 2019 and last updated 4:42 PM, Jun 12, 2019
LANSING, Mich. — Capital Steel & Wire, a manufacturer and distributor of hot rolled and cold finished steel bar, was established in 2001 by Kelly and Dustin Preston. From the business start, Kelly served as the company's Chief Financial officer, from 2001 to 2015. In 2015, Kelly transitioned to the role of President. Headquartered in DeWitt, Michigan, Capital Steel & Wire has multiple facilities in Mason, Michigan and Cleveland, Ohio. Under Kelly's leadership, Capital Steel & Wire has received several awards including 2007 Entrepreneur's Top 500 Fastest Growing Business, 2012 Benefiting the Community Award from the City of Dewitt, 2017 Innovation Award from Stanley Black & Decker and 2015, 2017, 2018 Outstanding Manufacturing Safety Performance from Acuity.
As an active member of the Capital Area Manufacturers Council, Kelly serves as the Vice Chair of its Board of Directors. In 2015, she was awarded the council's top honor as Executive-of-the-Year. Kelly also serves on the Board of Directors at Ele's Place in Lansing and serves on the Advisory Board of the Demmer Center for Business Transformation. In addition to the area committee involvement, Kelly is very active in the DeWitt community. She serves on the Board of Directors of the DeWitt Downtown Development Authority and on several other committees in the community and within the DeWitt school system. Kelly's goal is to show young women that there is a future for them in manufacturing.
Kelly is a proud graduate of Michigan State University, where she earned a Bachelor of Arts in Elementary Education. Prior to starting Capital Steel & Wire, Kelly had a successful career as an elementary teacher in Fort Wayne, Indiana and in Sylvania, Ohio. In her downtime, Kelly enjoys spending time with her family and friends, attending local sporting events, and supporting the Dewitt community.