At Capital Steel, we appreciate seeing steel put to good use. The ability to transform steel into an aesthetically appeasing steel sculpture is something we marvel at and admire, and we would like to acknowledge the fascinating works of some of the world's best steel sculpting artists. We scoured the internet searching for as many steel sculpting websites as possible and somehow managed to pick a top ten list of our favorite steel sculpting websites. Show these artists the appreciation they deserve by taking a look at some of their awesome artwork.
1. Kevin Stone – www.metalanimation.com
Canadian artist Kevin Stone specializes in large-scale, unique, 3 dimensional stainless steel sculptures for international audiences. Working out of Metal Animation Studio Inc., his enormous steel sculptures are larger than life, and take a great amount of time and loving care to create. Our favorite is his giant eagle sculpture which holds a world record as the largest eagle made of stainless steel.
2. Jeff Owen – www.jeffowenartworks.com
Owen creates sculptures from rough forms and he forms his art from internal means by drawing ideas from internal dreams and visions. Beyond all, he creates art that is completely unique and he resists conformity and mass production. As well as showcasing some great works of art, Jeff has an impressive list of awards and other credentials to back his work.
3. Bruce Gray – www.brucegray.com
Bruce Gray creates a variety of contemporary and modern metal and wood sculptures that have been displayed around the world. One of his favorite works of art is his giant Motorcycle #1, and it is one of our favorites as well. We also particularly liked "The Big Cheese #4", which has been featured on Monster House and Six Feet Under.
4. David Vanorbeek – www.vanorbeek.com
David Vanorbeek is a professional sculpture hailing from Langueodc-Roussillon in Southern France. He creates both interior and exterior sculptures, and he uses recycled and recuperated iron materials for his sculptures. Our favorite section of his website was his Abstract Sculpture section, which features some of his pieces that we found quite unique and interesting.
5. Destiny Allison – www.destinyallison.com
Destiny Allison worked in bronze stone and steel for the past 15 years, and fell in love with sculpture after playing with her son's modeling clay. Since working with sculpture, Allison has won numerous awards and her art has been featured in galleries across the United States. Allison has also written a book; Shaping Destiny: A quest for meaning in Art and Life.
6. Archie Held – www.archieheld.com
Archie Held founded Archie Held Studio in 1985 in Richmond California and with a team of ten artists and metal fabricators has produced over 500 pieces of artwork since. What really caught our eye was their gallery of water sculptures, which includes both indoor and outdoor sculptures.
7. Paul Margetts – www.forging-ahead.co.uk
Paul Margetts forges and fabricates his metal sculpture art using both modern and traditional metalworking techniques. Pauldoes both interior and exterior work, including civic projects, garden ornaments and furniture, and lighting. We particularly liked looking through some of his stainless steel sculpture works, including the Apollo Fountain.
8. Richard Turner and Eric Carroll – www.desertsteel.net
Bringing desert terrain into their work, Turner and Carroll build metallic cactus, agave, palm tree and other desert plant life that range from two feet to twenty seven feet tall. Operating mostly out Their work has been sold in most US states and around the world. These realistic sculptures often are set to light up backyards at night, and make for an impressive backyard showing.
9. Richard Kistler – www.rustlust.com
 Residing in Humboldt Nation, California, Kistler creates large scale steel sculptures with occasional neon, water, fire features and hot rods. He uses a plasma cutter and welder to take scrap metal and transform it into what he calls a 3 dimensional moment of his life.
10. Gretchen Lothrop – www.studioatelfway.com
Lothrop is a painter and photographer, as well as a sculptor. She has participated in over 50 group exhibitions and has had 21 solo exhibitions. Lothrop works predominately, but not exclusively, with stainless steel, and her imagery is often based on music or dance.
Website Badges: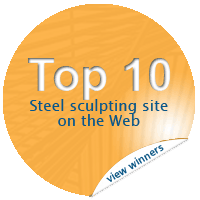 If you're interested in our steel products, take a look at our hot rolled steel and cold finished steel pages.