Metal detecting is one of the most popular (and profitable) hobbies in the world, and millions have been made from those lucky enough to uncover lost and forgotten valuables with the help of metal detectors. It's easy to see why treasure hunting is such a popular hobby; it's a great way to get exercise, it is proven to help relieve stress, and it's a great way to learn more about your local history.
The best treasure hunters know all the right places to look, and they know enough about local history to their advantage. All in all, the best places to start are typically the locations where there has been plenty of human activity. Here are some of the best locations to help get you started:
Fairgrounds
In the days following a major concert, festival or fair, treasure hunters are often seen patrolling the grounds. With the huge number of people at these events, someone is bound to leave something valuable behind.
Swimming Areas around lakes and rivers
Rivers and lakes wash up things that can be hidden from the world for centuries. Typically more can be found along the banks downriver of a large community.
Historic Sites
Abandoned military bases, old battlefields and old trading posts can be great places to find things from the past. Finding a nice place can be tough however since they have often been already scoured by other treasure hunters.
Schoolyards
Kids leave all sorts of things abandoned on the school playground, making it a great place to find lots of things. You won't just find loose change and candy wrappers as well. It's a popular spot where parents bring their kids to play.
Old Home Sites
Abandoned home sites and trailer park areas can be a goldmine for long lost precious items. I wouldn't recommend searching the area if there are still people living there. 🙂
Seaside Beaches
Touristy beaches are a great place to go, because metal detectors are often the only way to find something buried under the sand. Like rivers shore lines, old valuables can be found washed ashore, especially nearby large cities. Even if you don't find anything, you get to walk along a beach.
Gold is one of the most popular materials treasure hunters look for. Take a look at this this gold infographic to find out why.
Metal Detecting Clubs by State
Alabama
Southeast Treasure Hunters
Tri-State Coin & Relic Hunters Club
South Alabama Historical Research & Recovery
Warrior Basin Treasure Hunters Association
Alaska
Alaska Treasure Seekers Society
Arizona
Superstition West Treasure Hunters
Superstition Mountain Treasure Hunters
Huachuca Prospectors Association
Arizona Treasures Unlimited, Inc.
Arizona Association of Gold Prospectors, Inc.
Arkansas
Arkansas Treasure Hunters Club
Tri-State Historical Research & Recovery Association
California
San Joaquin Valley Treasure Hunters Club
Prospector's Club of So. California
West Coast Prospectors & Treasure Hunters
Gold Coast Treasure Hunters Club
Sacramento Valley Detecting Buffs
Treasure Hunters Society of Santa Clara Valley
Central Coast Treasure Hunters Association
Mt. Diablo Metal Detecting Club
Antelope Valley Treasure Hunters Society
Colorado
Rocky Mountain Prospectors & Treasure Hunters
Gold Prospectors of the Rockies
Connecticut
Nor'easters Metal Detecting Club
Delaware
Southeast Treasure Hunters
First State Search and Recovery
Florida
Suncoast Research & Recovery Club
Central Florida Metal Detecting Club
Historical Recovery Association of North Florida
Gold Coast Treasure Club, Inc.
South Florida Treasure Hunting Club
Treasure Coast Archeological Society
WSAS Metal Detecting & Treasure Hunter's Club
Georgia
Georgia Gold Prospectors Association
Coastal Empire History Hunters Association
North Georgia Relic Hunters Association
Stone Mountain Treasure Hunters
Hawaii
Rock and Mineral Club of Hawaii
Idaho
Boise Basin Search & Recovery Club
Illinois
Will County Historical Research & Recovery Association
Midwest Historical Research Society
East Central Indiana Treasure Hunters
Indiana
East Central Indiana Treasure Hunters
Hoosier Exploration and Recovery
Down'n Dirty Diggers
Hoosier Hills Treasure Hunters
Iowa
Cedar Valley Research & Recovery
Iowa GPAA Chapter
Kansas
Topeka Treasure Hunters Club
Mo-Kan Search & Recovery
Kentucky
Northern Kentucky Treasure Hunters
Blugrass Loop & Coil Club
Louisiana
Maine
Metal Detecting Maine
Maryland
Chesapeake Society of Treasure Hunters
Eastern Shore Treasure Club
Maryland Artifact Recovery Society
Massachusetts
Gateway Treasure Hunters Club
Massachusetts Treasure Hunting Association
Michigan
Michigan Treasure Hunters
Northeast Huron Detectors Club
Southwest Michigan Seek and Search Club
Minnesota
Mississippi
Tri-State Coin & Relic Hunters Club
Missouri
Mo-Kan Search & Recovery
Midwest Coin and Relic Hunters
Montana
Nebraska
Midwest Historical Detector Club
Nevada
Gold Searchers of Southern Nevada
New Hampshire
Northeast Metal Detecting Forum
New Jersey
Deep Search Metal Detecting Club
South Jersey Metal Detecting Club
Mid Jersey Research and Recovery Club
North Jersey Metal Detectors
New Mexico
New Mexico Treasure Hunters Association
Albuquerque Metal Detector Association
Pecos Valley Adventure League
Gold Prospectors of New Mexico
New York
Empire State Metal Detector Association
EARTH Club
New York Research and Recovery Club
Genesee Valley Treasure Seekers
Richmond Research & Recovery
Niagara Frontier Relic Hunters
North Carolina
Carolina Relic and Beach Hunting Society
Metal Detecting Association of the Carolinas
Old North State Detectorists Club
Blue Ridge Metal Detecting Club
North Dakota
Ohio
Black Swamp Metal Detecting Club
Tri-State Historical Research & Recovery Association
North Coast Historical Recovery Association
Oklahoma
Three Forks Treasure Hunters Club
Indian Territory Treasure Hunters Club, Inc.
Oklahoma Metal Detecting and Treasure Hunting Club
Oregon
Millennium Diggers Club
Rogue Valley Coinshooters
Eastern Oregon Miners & Prospectors
Pennsylvania
Susquehanna Valley Metal Detector Club
Southeastern Pennsylvania Historical Recovery Group
Black Diamond Treasure Hunting Club
Lancaster Research & Recovery Club
Penn Mar Historical Recovery Association
Rhode Island
Discovering Rhode Island Treasures
South Carolina
Lowcountry Metal Detector Club
Metal Detecting Association of the Carolinas
South Carolina Metal Detector & Relic Association
Costal Empire History Hunters Association
South Dakota
Black Hills Prospecting Club of South Dakota
Tennessee
Smokey Mt. Artifacts Research & Treasure Soc.
Tri-State Coin & Relic Hunters Club
Middle Tennessee Metal Detecting Club
Texas
Amarillo Prospectors & Treasure Hunters Association
Texas Association of Metal Detecting Clubs
Concho Valley Trash & Treasure Hunter
East Texas Treasure Hunters Association
Montgomery County Artifacts Recovery Club
Tomball Archeological Recovery Club
Fannin Artifact Recovery Organization
Golden Triangle Explorers Society
Lone Star Treasure Hunters Club
Utah
Utah Gold Prospecting Club
Vermont
Virginia
Northern Virginia Relic Hunters Association
Central Virginia Historical Recovery
Hampton Roads Recovery Society
Washington
Cascade Treasure Club
Pilchuck Treasure Hunting Club
Puget Sound Treasure Hunters Club
Olympic Peninsula Treasure Hunters
Northwest Treasure Hunters Club
Metal Detecting Association of Washington
West Virginia
Wisconsin
Three Seasons Treasure Hunters LLC
Titletown Treasure Seekers
Four Lakes Metal Detector Club
Wyoming
Cheyenne Chapter GPAA
Gold Infographic

If you think we're missing a metal detector club, send an email to metaldetectorclubs@aol.com and we'll get them listed pronto.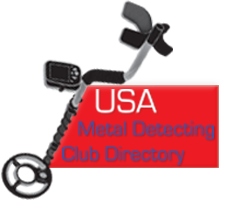 If you would like to add the above badge to your website, download the image found above and add it to your website.
If you're interested in any of our steel products, take a look at our cold drawn steel bar and cold rolled bar products.